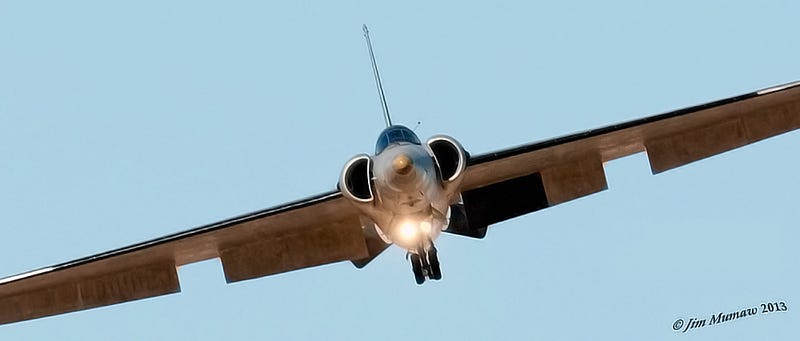 The venerable U-2 'Dragon Lady' is a spy plane born from Cold War necessity that soldiered on operationally for decades past anyone's wildest dreams. She went from sleek design to a bulging beast of burden whose silhouette can change as fast as her mission requires it to. Here's a guide to her many configurations.
The U-2 was designed in the 1950's by Kelly Johnson — a man that would become as famous in aeronautical circles as the aircraft he gave birth to — and his skunkworks team. Stories of white knuckle Cold War missions over the Soviet Union and Cuba, and the shooting down of Gary Powers in 1960, an event that proved that the time of surface to air missiles have finally arrived, are synonymous with the U-2. This machine has taken part in virtually every major American military operation for over the last half century and has provided signals, communications, electronic and image intelligence reliably since shortly after the dawn of the jet age. The U-2 has also proven itself to be a great atmospheric research platform, natural disaster life saver, cartographer and high flying testbed beyond its more celebrated spying duties.
With all these missions in mind, the U-2 can appear like an almost totally different aircraft depending on which unique mission it is configured for, and there is no better place to view the U-2 in its many guises than the home of its manufacturer, Lockheed Skunk Works, now located at the sprawling and shadowy Plant 42 in Palmdale, California. Plant 42 is basically a massive airport surrounded by sprawling hangar facilities where America's top aircraft manufacturers and clandestine design houses create cutting edge flying super weapons.
What happens behind the doors of these massive buildings is deeply classified, but some weapon systems do fly out in the open from the Plant 42, especially those that are unclassified and are going through critical upgrades, servicing or manufacturer testing. The U-2 is one of these machines. America's best aerospace engineers and subsystem developers are constantly tweaking the Dragon Lady's abilities to meet new mission requirements.
An aviation photographer friend of mind who lives in the area has captured the U-2 in some of its most outlandish configurations and is willing to share these fascinating pictures with Foxtrot Alpha's readers. So let's take a look at this legendary aircraft in all her different configurations, and maybe I can shine some light onto what exactly all these various pods, antennas and nosecones actually do.
U-2S
The aircraft pictured above is a very rare, totally "clean" U-2S. In fact she is not even packing the weight of her normal matte black paint (that is rumored to have radar absorbing qualities). Flying the U-2S, with its powerful F-118 motor, in this absolutely stripped configuration must be a real thrill. Its huge wings, high thrust and almost no payload should combine to produce some pretty outstanding climb rates. On the other hand, I bet she is a bitch to land as those long wings do not want to stop flying even when there is the normal payload of thousands upon thousands of pounds of sensors and fuel onboard, not to mention the parasitic drag from a ton tacked on pods and antennas.