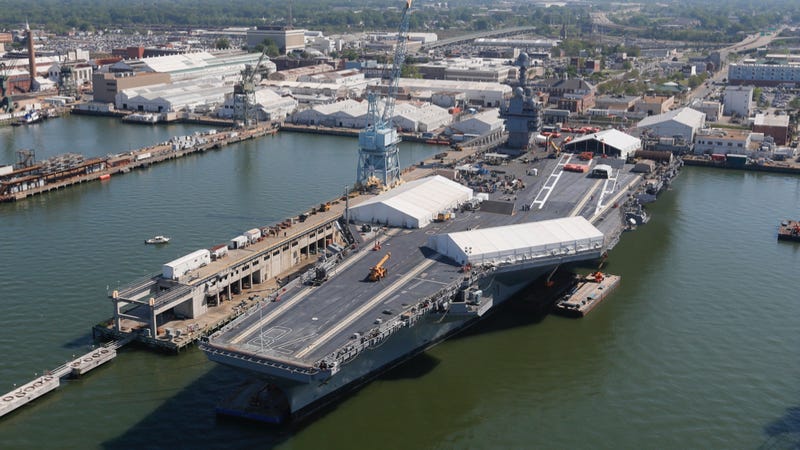 President Donald Trump stood aboard the $13 billion USS Gerald R. Ford on March 2 to boast about his plans to increase military spending. Trump told the audience of sailors that more of them were coming and that they have no peers. One important note he forgot to add is that aircraft carriers, as bold and intimidating as they appear, are very susceptible to attack.

The problem with how the Pentagon spends money, and its outlook in general, is that it fails to build hardware for wars of today. The need for a massive number of carriers is hangover line of thinking from the World War II days, when the U.S. had considerable access to the world's major waters and our adversaries could not defend themselves against the Navy's superior nautical presence.

American aircraft carriers are extremely expensive, but they are also incredible vulnerable to a wide range of enemy fire. China and Russia, America's most powerful adversaries, have been building precise and sophisticated anti-ship weapons for decades, such as the P-700 Granit supersonic cruise missile, which is specifically designed to break through American carrier group countermeasures.
Though in service since the 1980s, the P-700 consists more a system of multiple missiles rather than just one missile, fired one at a time. If P-700s are fired in a group of four to eight, they form a network that decide amongst themselves which missile will prioritize the main target (like a carrier).
The missile that designates the target flies at a higher altitude, guiding the others skimming the sea surface to their eventual endpoint. A missile flying at a higher altitude is easier to shoot down, however, and the P-700 system was designed with this fact in mind. So if the lead missile, flying high above the others, is knocked out of the sky, another one of the group immediately pops upwards to replace it.
Knocking out a group of eight missiles that conveniently offer themselves up for sacrifice one at a time sounds easy enough, until you realize that these things are moving at speeds of at least Mach 1.6, or 1,227 miles per hour at sea level. And the P-700s pack a big enough punch to do real damage, as defense reporter and occasional Foxtrot Alpha contributor Kyle Mizokami once pointed out at The National Interest:
The P-700 was a large missile designed to kill large ships. The P-700 was thirty-three feet long and nearly three feet wide. Each weighed 15,400 pounds each, most of which was fuel for the ramjet-powered engine which propelled the missile at speeds of Mach 1.6 to a range of 388 miles.

The missile packed either a 1,653-pound conventional high explosive warhead, enough to damage an aircraft carrier, or a five-hundred-kiloton nuclear warhead, enough to vaporize a carrier. The missiles would be fed targeting data from the Legenda space surveillance system, which would hunt fast-moving carrier battle groups from orbit.

And that's just one missile system that the Russian Navy has been using for decades. Newer missile systems, like the BrahMos, move at double the speed with even more lethality.
But let's assume for a second that the P-700, or even the BrahMos, wouldn't be able to get past an American carrier battle group's complex mix of countermeasures, such as RIM-162 Evolved Sea Sparrow missiles, RIM-116 Rolling Airframe Missiles, decoys, and—if all else fails—Phalanx close-in weapons systems.
What you would really need to get through that tenacious net would be a torpedo, preferably fired by a submarine. But the U.S. Navy has made steady cuts to its anti-submarine capabilities for years now.
In October of 2015, a Project 636-class submarine managed to stalk the American aircraft carrier USS Ronald Reagan off the coast of Japan without getting caught "for at least half a day." And a submarine doesn't need that long to fire off its lethal package.
The Project 636 was likely following the Reagan to protest Freedom of Navigation exercises taking place at the time to challenge Beijing's territorial claims in the South China Sea. As Foxtrot Alpha has reported, China has been asserting its power in the region by building artificial islands in the body of water that have violated other nation's maritime borders. In any case, the move was a clear sign Beijing doesn't fear the Navy's mighty carrier fleet.