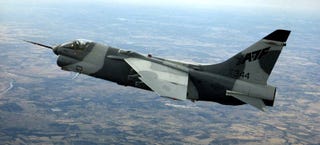 The A-7 Corsair II, known also as the SLUF, as in "Short Little Ugly Fucker," was a conservative balance of economy, persistence, payload, and technology, and its final design evolution, the A-7F, could have been the right fighter for the wars to come in the new millennium.
The A-7 was designed in the early 1960s as an attack-focused offshoot of the Navy's legendary F-8 Crusader. One could easily venture to say that America could learn something from the meager SLUF, and especially its proposed last iteration, some two decades after it's retirement from US inventories. The original A-7 was a purpose-built bomb truck, which leveraged a large fuel load, highly efficient turbofan engine, simple airframe design and affordability across the board.
All this came at the expense of Mach-one-plus fighter jet speeds and extreme maneuverability, yet this sacrifice was offset by the most cutting edge installed avionics suite of its day.
The Corsair II was the first aircraft to truly make cockpit functionality and pilot interface a hallmark design objective. For instance, the SLUF was the first production aircraft to feature a true Heads Up Display (HUD) as we understand it today. The jet also utilized a state-of-the-art radar set, inertial navigation system, centralized mission computer, and a moving map display for incredibly accurate bombing and autopilot navigation, even in horrid weather conditions.
By the late 1970s, upgraded models of the Corsair II utilized a forward-looking infra-red (FLIR) navigational pod which could project its image directly onto the pilot's HUD for night and adverse weather operations. It was the first line inventory aircraft that would boast such an around-the-clock attack capability, such as the more complex A-6 Intruder of the Navy, or the USAF's F-111 Aardvark, had to rely on radar-centric automatic terrain following and bombing modes alone.
By the mid 1980s the A-10 Thunderbolt II program was in full swing, and the USAF was not very happy with its purchase. Sure, the A-10 was the ultimate daytime close air support (CAS) machine even designed, but its supposed inability to fly at high speed, deep into enemy territory on interdiction missions, while also defending itself against roaming enemy fighters, is something that the USAF has had an issue with to this very day.