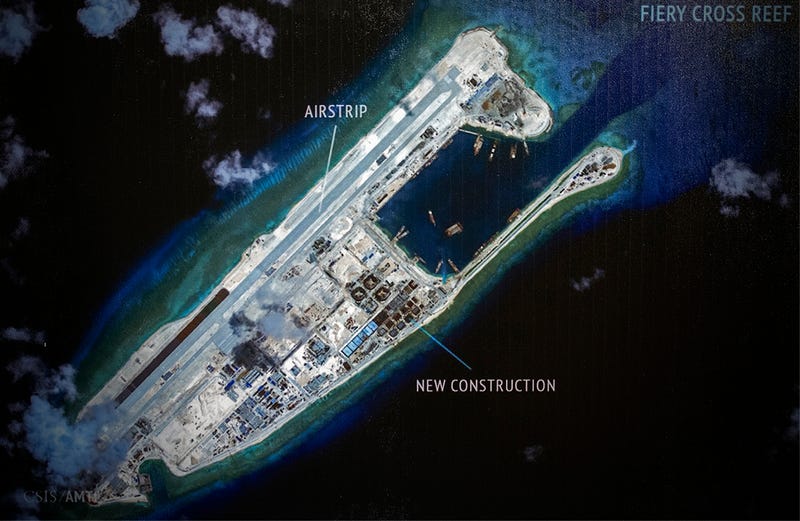 China's island-building campaign in the South China Sea has been happening at breakneck speed. At Fiery Cross Reef, the construction of a 10,000 foot runway capable of supporting fighters and military transports has finally been proven operational after China landed an aircraft on it. . Here's why that's causing great concern among nearby Asian countries and what could be done about it.
Reuters reports that a Chinese spokesperson from the Foreign Ministry said that the test flight was executed to test the runway's ability to meet civilian aviation standard and that it "completely within China's sovereignty."
This revelation came much to the chagrin of Vietnam and other local powers that also have claims on areas of the South China Sea, and the whole situation remains a hot topic on Capitol Hill. But the cold hard fact is that it was really only a matter of time before this happened.
The Chinese used a non-military aircraft to make the inaugural landing; this makes sense. China has long claimed various peaceful purposes for its man-made islands, although scientific research and fish population studies surely don't take a massive island building campaign that has done serious ecological damage, not the other way around.
The truth is that these islands could be hardened military outposts capable of projecting power in a persistent manner far from the Chinese mainland, and over one of the most important shipping arteries in the world. It is all part of a scalable anti-access/area denial military strategy that China has been pursuing with great fervor over the last decade.

So what happens next? Likely nothing. The Obama Administration only began seriously addressing China's island building program in the South China Sea fairly recently, and although there have been direct calls by top Administration officials for China to end its island building operations and to resolve their South China Sea territorial disputes with their neighbors diplomatically, there is very little chance of this happening now.
Additionally, just late last year the U.S. Navy made its first "freedom of navigation" passes by some of the islands, and American military aircraft have been challenging China's rickety air identification zone around them sporadically over the last year.