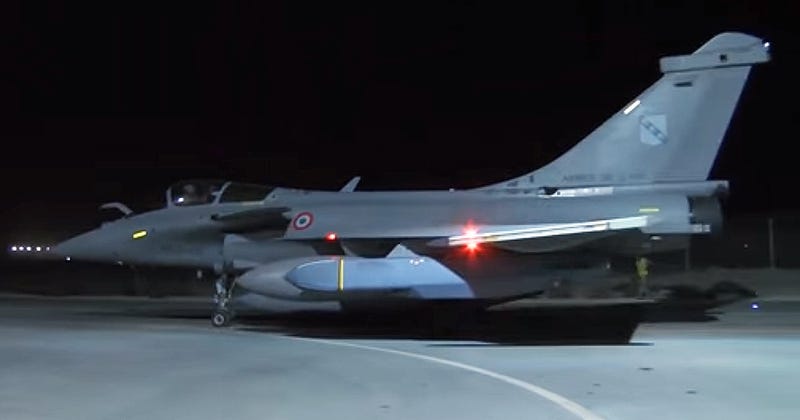 More telling evidence that the airspace over Syria remains a conflicted and dangerous mess emerged this week in the form of a video of French Rafales carrying SCALP EG cruise missiles for strikes. And make no mistake – it's a mess seemingly dictated by Russian action and coalition reaction.
French Rafales seen using stealthy SCALP EG cruise missiles that cost about a million dollars each and have a range of 540 nautical miles.
It has been more than 16 months since coalition aircraft began bombing operations in Syria. At the time, it was uncertain if Assad's fledgling air defense network would challenge U.S. and other coalition aircraft. Stealthy F-22s, radar-hunting F-16CJ "Wild Weasels," and jamming aircraft were used just in case it happened.
It was quickly realized that such a scenario would not come to pass, as coalition strikes — which were (and still are) limited to ISIS and other known terror group targets — largely benefited the Assad regime. Additionally, Assad's forces were shattered after years of civil war, and so the country's air defenses were spotty at best.

Soon, the U.S. and its coalition partners realized that they had free-range over the country, although their focus was in the eastern half of Syria, where ISIS's de-facto capital of Al Raqqah is located and where major ISIS-related battles were taking place. Still, increasing key bombing missions in support of anti-Assad forces across the country was a looming objective.
Fast forward to today, and the coalition appears to be far from declaring air supremacy over Syria. In fact, Russia's heavy presence in Western Syria, with its formidable S-400 air defense system and enhanced armed fighter patrols, both of which were put in place after Turkey downed a Russia Su-24 attack jet, seems to have made it an area where manned coalition aircraft simply do not operate.