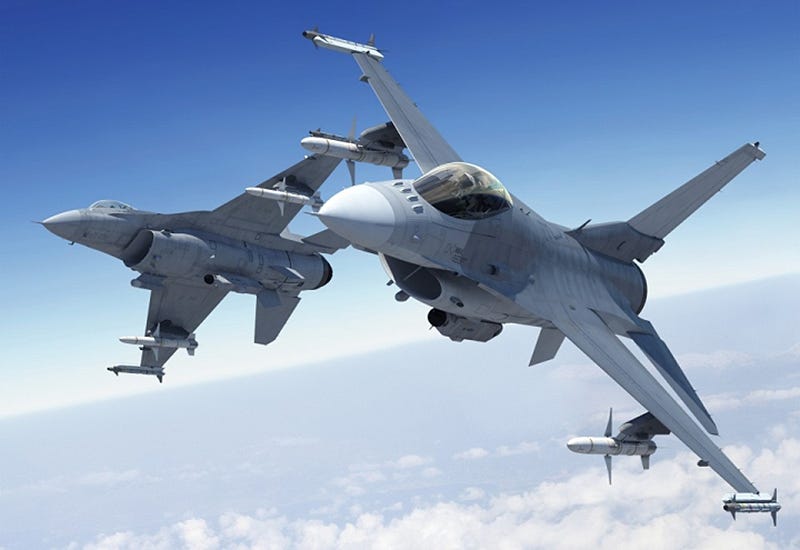 Lockheed's F-16V testbed flew for the first time yesterday. This face-lift of the F-16 is almost entirely internal, but it gives the most successful 4th generation fighter a quantum leap in capabilities. But don't expect the F-16V's game-changing features to show up on USAF F-16s anytime soon, and that is a major problem.

The F-16V configuration takes to the air for the first time over Fort Worth, Texas:

The F-16V will be available in both upgrade form for older F-16s and in new production aircraft. This new configuration features a slew of upgrades, most notably is Northrop Grumman's APG-83 Active Electronically Scanned Array (AESA) Scalable Agile Beam Radar, also known as SABR. This new radar allows simultaneous air-to-ground and air-to-air modes and offers a huge leap in fidelity, range, target identification, jamming resistence and detectability over the F-16C/D's APG-68 series of mechanically scanned array radars.

An updated cockpit layout with full color displays and a large center pedestal display, similar to what was offered to India in the guise of the F-16IN, is also included in the F-16Vp package. Additionally, a new modular mission computer, digital electronic warfare system, ground collision avoidance system, high capacity Ethernet data bus and an advanced Link 16 datalink with satellite connectivity round out the F-16V's primary features.

The F-16V is a common sense upgrade for F-16s that need to stay relevant for decades to come and its "open architecture" allows for further upgrades down the line. The USAF still has close to a thousand F-16s in service today, hundreds of which will continue flying through the next decade at least. That is if the USAF is actually able to purchase the throngs of F-35s that they wish to. As many of us have been stating for years, the USAF's plan to acquire around 1750 F-35As almost certainly won't happen. Budgetary constraints when it comes to acquiring the $110 million fighters en masse and the cost of operating the high-end stealthy jet will make such an inventory goal nearly impossible. This is something key Congressional members are finally coming to terms with. As such, the USAF will probably have to keep its F-16s in inventory long after it wants to.
The problem is that today, as in now, the F-16 is showing its age. Not when it comes to its speed or maneuverability so much as its sensors, situational awareness enhancing pilot-aircraft interfaces, electronic warfare capabilities, and maybe most important, structurally. In fact, the F-16D fleet was recently grounded for cracks in its longerons, and airframe fatigue among the entire F-16 fleet is increasingly becoming an issue.

As of now, no F-35As are operational, and even though the type is slated to be deemed operational by the USAF in the next two years, it won't be until years later, if everything goes as planned, that the F-35A will be truly fully operational. Even then there won't be nearly enough new F-35As to replace the F-16, even if full-throttle production were initiated. It likely wouldn't be well into the following decade that the F-35A inventory could be built up enough to finally release the F-16 from duty, that is if the USAF can afford such a fleet at all.