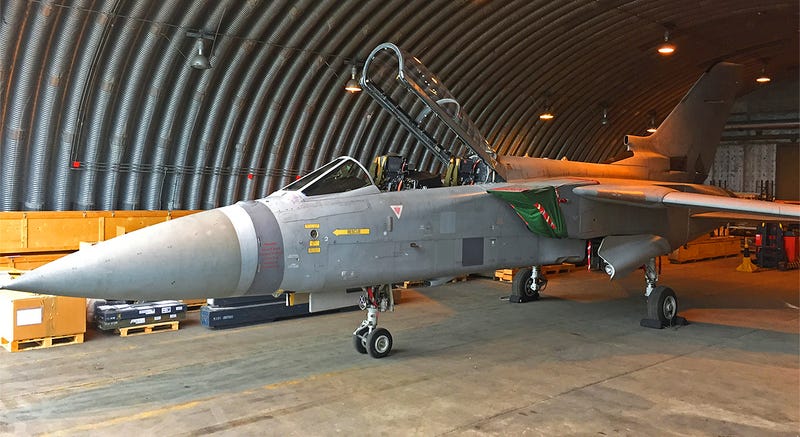 It is always interesting to see what surplus military hardware ends up on the private market. While browsing aircraft classified ads I came across this mint condition, swing-wing Tornado F2A fighter-interceptor for sale. I have never seen one of these beauties on the market, so I had to contact the seller to get the low-down.
The exact Tornado F2A for sale pictured while still flying for the Royal Air Force (image credit Steve Kilvington).
First off, a little background. Generally speaking, the Panavia Tornado was built in three primary variants. The IDS model was optimized for interdiction and strike. the ADV model is an air defense variant filling the role of a medium-range interceptor-fighter. The third variant is the ECR which fills the suppression of enemy air defenses role primarily.
The aircraft for sale is a unique version of the ADV fighter-interceptor variant, called the F2A. This designation denotes that it has the primary configuration of the F2 but it is a unique testbed aircraft.
A Tornado ADV bristling with weaponry and external fuel tanks.
Operational Tornado ADVs would carry four Skyflash or AIM-120 AMRAAM beyond-visual-range air-to-air missiles and four AIM-9 Sidewinders or AIM-132 ASRAAM short-range air-to-air missiles, as well as a 27mm cannon with 180 rounds. External tanks were also carried on their rotating wing pylons.
The ADV variant of the Tornado was introduced into service in 1985 and saw service with Italy, Saudi Arabia and the UK. A total of 218 examples were built. Although the IDS and ECR variant remain in service with multiple air arms, the Royal Air Force retired the final operational examples of the ADV variant in 2011, with the Eurofighter Typhoon taking over their air defense role.
The Tornado F2A for sale with its long snout that could house the AI.24 Foxhunter radar, although this particular aircraft was also used to test the Sea Harrier's Blue Vixen radar.
Although the Tornado was not known to be highly competitive as a close-in fighter, it had a big radar aperture and long-legs, and it could dash at supersonic speeds fairly efficiently due to its swing-wing design. In all, the jet for sale is a serious piece of military hardware that has a top-speed potential of mach 2.2 and can pull 7.5Gs.
Because this particular jet flew as a testbed for a variety of sub-systems and Tornado upgrades, it has very low hours and has been babied its whole life. In fact, the jet never even clocked up 1,000 flight hours. Metaphorically, it's like a used car with 10,000 miles on it.
The F2A's unique cockpit configuration full of multi-function displays
Here is the listing description for the Tornado being offered:
"Ex Royal Air Force Panavia Tornado F2A ZD902 ADV for sale. The only F2A variant Tornado aircraft in existence. This is a rare "T-Bird" Twin Stick variant of the Tornado with full flying controls in both the front and rear cockpits. Airframe hours are a ridiculously low 935 hrs. Fitted with RB199 Mk103 afterburning turbofan engines, this former Royal Aircraft Establishment Trial Aircraft was used for Sea Harrier FA2 radar trials and for avionics research and evaluation. The cockpit is one of a kind modified with MFD screens and a prototype holographic Head Up Display.

This Air Defense Variant, known as TIARA (Tornado Integrated Avionics Research Aircraft) was built in 1984 and was last flown in November 2011. She comes complete with MOD F700 as well as a detailed print out log of all the flights ever flown including landing, take-off, rollers and arrested landings she ever performed.

This is a once in a lifetime opportunity. The aircraft was fully assembled on 7th December 2015 prior to us dismantling and extracting it for road haulage. The photos showing the assembled aircraft were taken the day prior to disassembly. The aircraft was fully fueled and a defuel was conducted on the 3rd of November 2015 when external power was last applied. All fuel pumps were run during the defuel process. Internal battery electrical power was last applied on the 7th of December 2015 as part of the dismantling process and cockpit lighting systems were tested at this time.

The aircraft is now in storage in a heated hangar as per the photo below. The aircraft was hydraulically sound prior to being dismantled with accumulators charged. This should give an idea of how intact and complete this aircraft is, truly an incredibly rare opportunity to own one of our most exciting aircraft to date!"
The people over at Jet Art Aviation who have the Tornado F2A listing are obviously passionate about military aviation. Managing Director Chris Wilson was more than happy to give Foxtrot Alpha the gouge on this incredible machine.

The first thing I wanted to ask was if this jet could ever fly in private hands; the answer was pretty clearly a big yes, although for legal purposes Jet Art Aviation had to clarify that they are technically not selling it as flying aircraft. Here is how our exchange went:
Foxtrot Alpha: Do you envision this aircraft to be flown again? In other words, could an adversary support contractor buy this aircraft and fly it again? What about a private citizen?