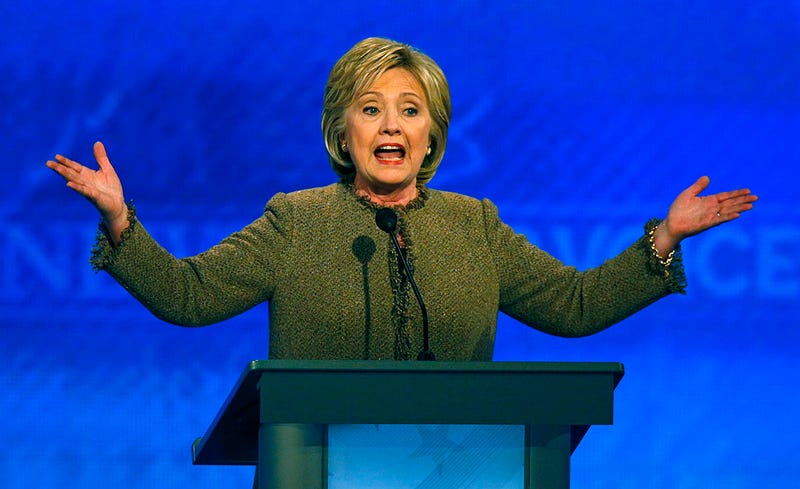 Yesterday's Democratic debate saw Hillary Clinton answer for her involvement in ousting Muammar Gaddafi and the total chaos that has followed. Her response was full of spin that played down just how bad things have become in Libya since then.
When asked by reporter and moderator Martha Raddatz about how much responsibility she bears for the fact that Libya is "falling apart," now "a haven for ISIS and jihadists," Clinton said this:
Essentially, Clinton twice talked around Raddatz's questions on her responsibility over what followed, and would not address whether the U.S. should have done more than offer "only a modest training effort and a very limited arms buy-back program" once Gaddafi was ousted; instead, she put the onus on the Libyans.
Clinton's response is unfortunate, because if she is elected she may be faced with a similar and possibly more complex set of decisions in Syria.

Nearly every place where U.S.-backed regime change has occurred, it has only resulted in unintended consequences. Usually these consequences are outright instability and increased danger to the U.S. itself. Hillary Clinton, as President Obama's Secretary of State, spearheaded one of these adventures in Libya in 2011, and the results were dismal, if not outright terrifying.
This issue does not belong to Hillary alone, far from it; it is spread across both parties. Still, she is running for President and the results of her term as Secretary of State matter. America's long-standing idea that democracy will occur instantly at the end of a gun barrel or laser-guided bomb has been proven to be far more challenging in reality than in theory.

Usually, the result of such a strategy is the manifestation of a vacuum of power that is then filled by extremist elements and tribal, ethnic and religious infighting. There's also no guarantee that time will solve the problem.
In Libya's case, although a fragile agreement is in place between two rival political factions to attempt to move forward under a unity government, extremist elements have infested their country, the capital is a war zone, and ISIS controls entire cities. Additionally, Africa has experienced an explosion in Islamic extremism, which will continue to affect Libya even in the unlikely situation that ISIS and other extremist elements are rooted out.