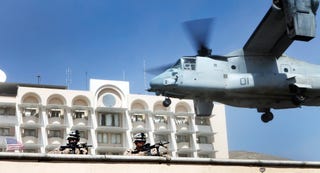 Libya appears on the verge of all-out civil war once again as opposing factions are squaring off in the streets of Tripoli. In the wake of the Benghazi attack, the Obama Administration and the DoD are ready and waiting to pull our diplomats and their support staff out at a moments notice. Here's how they'll probably do it.
America's diplomatic mission in Libya would be by no means the first to vacate the their facilies under the deteriorating circumstances in that country. The Saudi Arabian and Turkish consulates, among others, have been closed recently. With this in mind, along with gunfire echoing throughout the streets of Tripoli, America is staging what could be an all out evacuation of US Embassy staff based there.
America's Embassy in Libya is already one of the most highly guarded in the world, but under the current circumstances it is almost a given that the Marine Corps Embassy Security Group (MCESG) has already bolstered its standard detachment of Marines Security Guards with one of the newly formed Marine Security Augmentation Units (MSAU). These rapidly deployed squads were developed in the aftermath of the Benghazi attack and aimed at providing flexible, agile and scalable additional security for US Embassies and diplomatic missions at the request of Ambassadors or the State Department. In other words, if chaos or threatening intelligence is is looming within a country where the U.S. has a diplomatic presence, these teams are deployed to be a preventive measure against a well organized attack. An MSAU was recently deployed to Kiev in response to the dramatic geopolitical changes and threats, both internal and external, occurring in and around Ukraine.