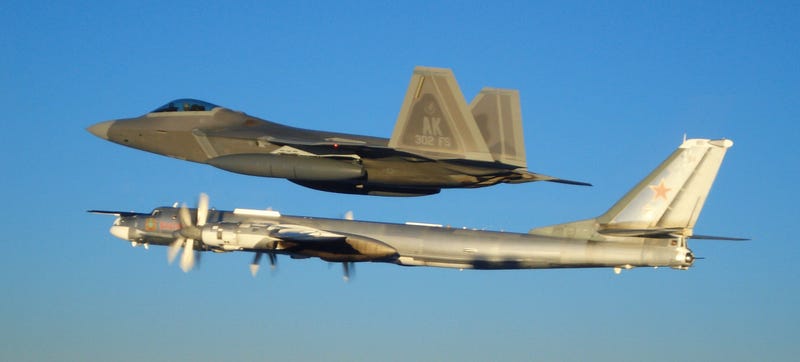 It is really amazing how much tensions have increased among major powers over the last year, and this reality has manifested itself in newsmaking air-to-air intercepts now occurring regularly around the globe. Just last week, three major intercepts made national news, all of which were unique in their own right.
Russian Bears Off Of Alaska & California
On Monday a quartet of Russian Tu-95 Bear bombers, all nuclear capable, made their way towards Alaskan airspace, at which time NORAD ordered the launch of a pair of 477th Fighter Group F-22A Raptors that sit alert out of Elmendorf AFB, located in Anchorage Alaska.
Here is a video depicting a similar past intercept:
The Raptors promptly intercepted the formation as they made their way east, down the Alaskan coastline, before a pair of them turned back towards Russia. The other pair continued in a more southern direction before popping up once again about fifty miles off the coast of Northern California. This time the lumbering turboprop powered bombers were intercepted by F-15Cs from the 144th FW, located at Fresno-Yosemite Airport. From here the jets were shadowed until they turned west and headed away from US airspace.
Although Russian heavy bombers are known to wander around the world from time to time on long-range training missions, which are also used as a show of force and as a reminder of Russia's capabilities, flights off coast of the Continental US are a bit more rare.
Russian long-range military aviation flights around NATO and other US allied nations territory have been fairly commonplace since Vladimir Putin resurrected such missions after being largely curtailed after the fall of the Soviet Union. Flights along Eastern Europe's ex-soviet states, Northern European countries, the UK, Guam, the Korean Peninsula and Japan have rapidly increased since the new year. This is most likely a product of Russia's chilling relations with the West as a result of Russia's involvement in the turmoil in Ukraine and their seizing of the Crimean Peninsula.