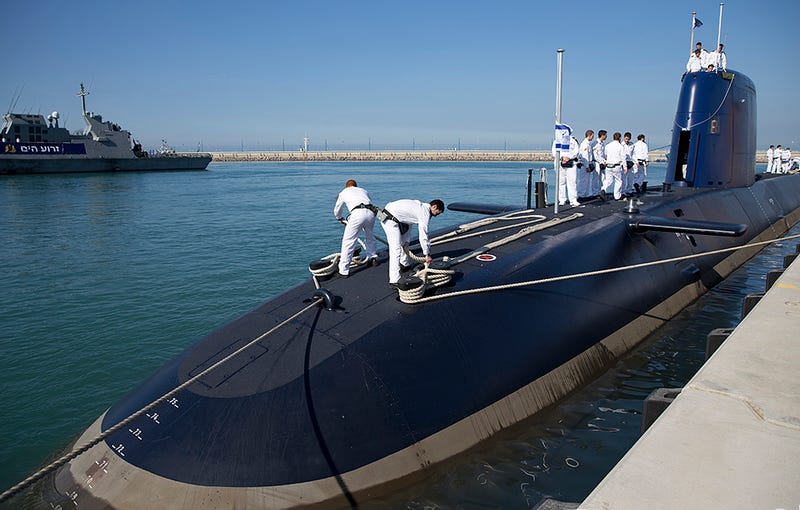 Arguably Israel's most critical military capability is their small but very deadly submarine fleet. Beyond being able to stealthily spy on enemies, insert operatives onto foreign shores and wreak havoc on enemy ships on a whim, they represent Israel's "second strike" nuclear deterrent. Now Israel has received its fifth such vessel, the Rahav.
The importance of the INS Rahav, and Israel's small but elite submarine force was underscored by Prime Minister Benjamin Netanyahu during the new submarine's arrival ceremony:
"Our submarine fleet serves as a deterrent to our enemies who seek our destruction." He continued, "they need to know that Israel is capable of hitting with very great force anyone who tries to harm us. And Israel's citizens need to know that Israel is a very strong country that is doing everything to defend them, everywhere and on every front."
Rahav is the Hebrew name for Neptune, the god of the seas, and in the Middle East, the INS Rahav will be just that. Built in Germany, she is a variant of the highly capable Dolphin 2 class of diesel-electric submarines. She joins four other boats in Israel's fleet, the Dolphin, Tekuma, Leviathan and Tanin . The first three of which are Dolphin 1 class, with the Tanin being the first of the improved Dolphin 2 class.
The Dolphin class in general is based on Germany's highly successful line of submarines starting with the Type 209, but is most similar to the Type 212, although the Dolphin class is larger. The Dolphin 2 class is even larger than the Dolphin 1 class.