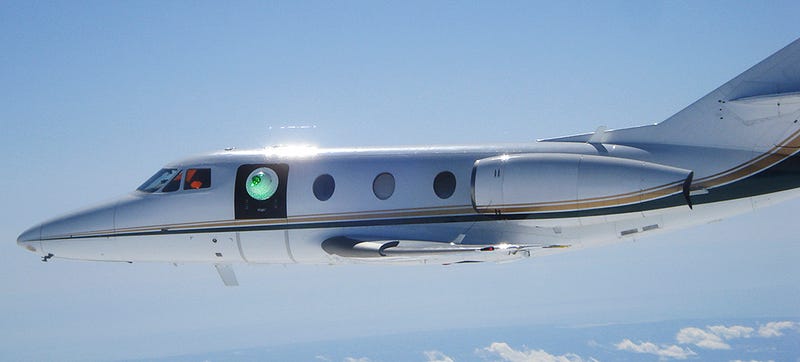 Defense giant Lockheed Martin, Notre Dame University, DARPA and the Air Force Research Lab have begun flight testing a streamlined and greatly miniaturized airborne laser turret that has the potential to totally transform air combat as we understand it today.
This new state-of-the-art beam control turret allows for 360 degree aiming coverage for directed energy weapons that will be flying on military aircraft in the not so distant future. In other words, this turret is able to rapidly aim at targets and focus a directed energy burst through the atmosphere at those targets to disable or destroy them, all while flying on a aircraft barreling through the sky at high-speed.
Known as the Aero-Adaptive, Aero-Optic Beam Control, or just ABC for short, Lockheed's new wonder-turret has been installed on an elderly Dassault Falcon 10 business jet for preliminary flight testing. According to Lockheed, the Aero-Adaptive part of the ABC turret relates to atmospheric turbulence compensation technologies that are integrated into it. Lockheed's press release explains:
The ABC turret system is designed to allow high-energy lasers to engage enemy aircraft and missiles above, below and behind the aircraft. Lockheed Martin's flow control and optical compensation technologies counteract the effects of turbulence caused by the protrusion of a turret from an aircraft's fuselage.
So basically, the system can sense the turbulence in the atmosphere where it is aiming and it can rapidly compensate for that turbulence so that the high-power laser does not become unfocused as it travels through that atmosphere, which would greatly limit its range. According to some sources, ABC can actually pull this off when shooting at incoming missiles that are approaching from behind, in back of the highly disturbed air caused by the aircraft's jet exhaust.
This technology is broadly known as 'adaptive optics.' Similar systems that use a laser to sense disturbances in the atmosphere between a system's optics and its target, and which utilizes an adaptive or 'deformable' mirror technology to compensate for it, have been used by cutting edge observatories, the Airborne Laser program, and other larger laser systems prior to this new and highly miniaturized laser turret's arrival.
At first, operational versions of this turret will most likely be installed on bombers, very large drones and converted cargo aircraft like the AC-130 gunship. But soon after, this system, or a slightly miniaturized version of it, will be mounted on fighter aircraft and tactical-sized unmanned combat air vehicles (UCAVS).