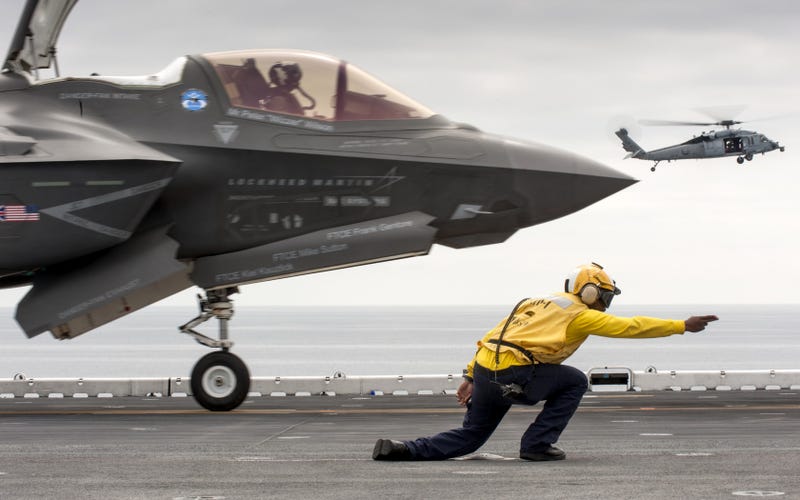 The Marine Corp has declared initial operational capability for their first squadron of F-35Bs. The announcement is seen by some as more of PR achievement as the aircraft still has years of testing ahead of it. Others will argue that it represents a major accomplishment for the beleaguered F-35 program. But regardless of who you agree with, the USMC have succeeded at ramming the aircraft through a marker post that has always been a huge point of contention.
Commandant of the Marine Corps General Joseph Dunford made the following statement:
I am pleased to announce that VMFA-121 has achieved initial operational capability in the F-35B, as defined by requirements outlined in the June 2014 Joint Report to Congressional Defense Committees... VMFA-121 has ten aircraft in the Block 2B configuration with the requisite performance envelope and weapons clearances, to include the training, sustainment capabilities, and infrastructure to deploy to an austere site or a ship. It is capable of conducting close air support, offensive and defensive counter air, air interdiction, assault support escort and armed reconnaissance as part of a Marine Air Ground Task Force, or in support of the Joint Force.
But is the F-35B really ready for combat? The level at which the squadron can do all those things General Dunford mentions remains debatable. During the latest at-sea trial for the F-35, which was made up of a hodgepodge of aircraft and personnel from the integrated test force and from the F-35B's training unit, the aircraft proved it could operate from the ship, but its serviceability rate, and thus its effectiveness while deployed as part of an Marine Expeditionary Unit remains in question.
The F-35B's software, which is a generation older than what was originally anticipated for declaring IOC, is also an issue, as it limits the aircraft's sensor abilities and weapons menu among other functions. The jet will only be able to carry internal stores, including laser guided bombs, JDAMs and AMRAAMs. It also cannot use its bolt-on cannon for at least a couple more years, at best.
Meanwhile, the Pentagon's Brass are slowly coming to terms with the program's massive roller-coaster ride, concurrency being the major offender, and its implications for future weapon systems development