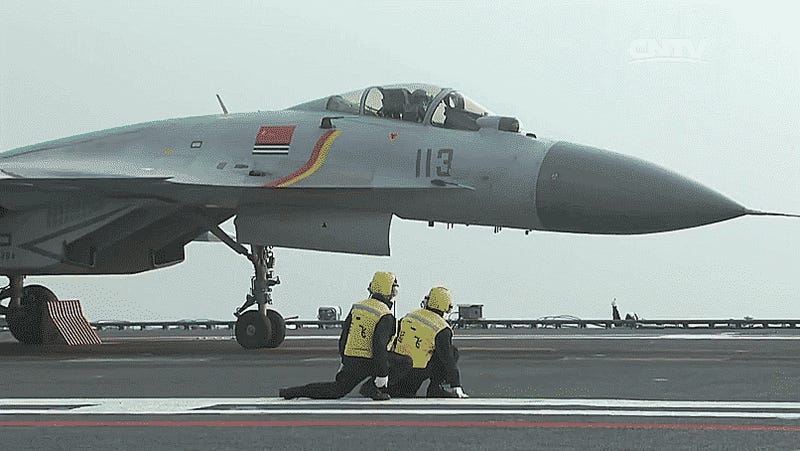 New video has surfaced showing operations aboard China's only aircraft carrier, the Liaoning, complete with the head of the Chinese Navy's making a visit and J-15 fighters landing and launching. More importantly, it shows how much Chinese aircraft carrier operations have evolved.
This includes footage of one of the jets with an air-to-air load-out launching from mid-ship launch position. The video was supposedly shot during recent training in the Bohai Sea.
According to a report by Channel News Asia, Chinese media has recently ran stories underscoring the fact that the country's carrier has transitioned from in development to an operational capability.
"The official People's Liberation Army Daily said in a front-page editorial that the carrier had achieved "obvious progress" in raising its combat effectiveness since the start of the year.

The number of aircraft based on the carrier and the number of daily flights had both increased, while "many" pilots had qualified to operate the Shenyang J-15 fighter jet on the carrier, the report said.

The navy had therefore made a "key breakthrough" in shifting from the testing phase to being able to operate ship-borne aircraft, the newspaper said."
The visit of Chinese Navy Chief Wu Shengli last week was to observe the progress that has been made in the years since the Liaoning and her J-15 fighters first went to sea for testing, about three and a half years ago.