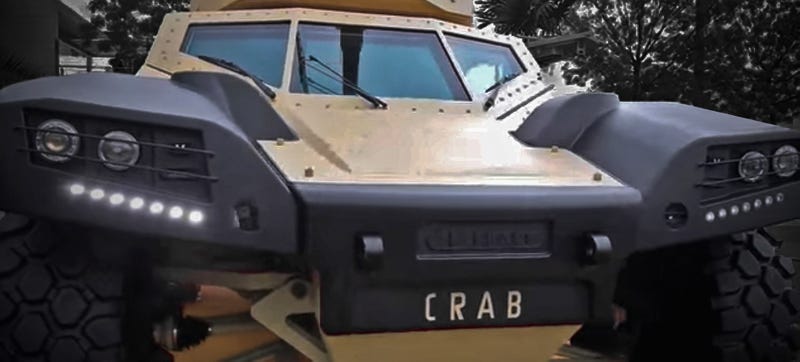 France's military vehicle (and once upon a time carmaker) Panhard has set out to change the way the weapons industry looks at a scout vehicles with their new three person armored buggy that can pack one hell of a punch. They call it the Crab, and like its namesake it can even move sideways.
Does the Crab, which stands for "Combat Recce Armored Buggy," look like an almost perfect hybrid of Halo's Warthog and Batman's Tumbler? Yes. Could it revolutionize the way scout vehicles are procured and employed on the battlefield? Possibly. The Crab is more than the sum of its parts, of which many are innovative but not necessarily ground-breaking.
The concept aims at creating a vehicle that is affordable and able to partake in every stage of a military operation including commitment, engagement, stabilization and normalization, and can operate in an offensive, defensive or a security manner. In other words, a customer can get their money's worth out of this little war wagon throughout an entire conflict's cycle. Still, the Crab is a scout vehicle at heart, built for lightning quick raids and sparring with the enemy, stealthily reconnoitering the battlefield for heavier forces and calling in heavy firepower from the rear.
There are a couple potential poweplants being looked at for the Crab, which all are mounted in the rear of the vehicle and come in at between 300hp to 400hp. One configuration includes a 400amp starter/alternator and a pair of large battery packs which would give the Crab an extra punch in performance when needed and could also allow it to crawl along silently in high-threat environments.
Additionally, a pair of advanced solar panels on its rear deck help in the charging of these batteries during daylight hours and they would also allow it to sit electronically powered up for long periods of time. The Crab's low slung design, while still offering substantial ground clearance, and its faceted structure will also help lower the vehicle's radar signature, a trait that is becoming quite important on the modern battlefield.