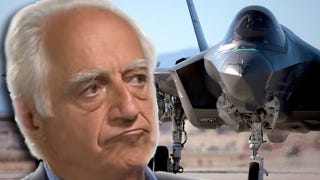 A video is making its way around the net right now that featuring an interview with F-16 co-designer and king of the 1970's era "Fighter Mafia," Pierre Sprey. In it he slams the F-35 in almost every way possible. Sadly, about half of what he says is totally relevant, the other half is totally bullshit.
I am not fond of the F-35 program. I don't hate the aircraft itself, in fact I hate no airplane, and I do not hate the jet's manufacturer Lockheed Martin either, but I do hate the asinine philosophy behind the whole Joint Strike Fighter initiative in the first place. That said, the F-35 "question" is not a simple one, especially at this point in its seemingly never-ending development process.
The point of this article is to go through some of the largely superficial things Mr. Sprey says in regards to the F-35, not in an effort to support the F-35 program, but to at least continue in my quest to clear away the gallons of bullshit that persistently block a clear vision into what has become the most expensive weapons acquisition in the history of mankind.