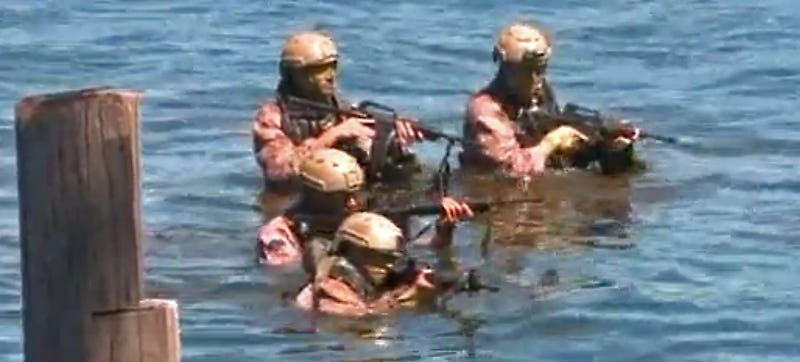 U.S. Recon Marines paid a little visit to the Seattle Seahawks Training Camp yesterday, dropping in via UH-1Y 'Venom' helicopters with AH-1Z 'Viper' cover and swimming their way to shore, with their guns drawn for their final landing. This demonstration, along with a Blue Angel's flyover, was part of Seafair week in Seattle.
Check out Seattle's Q13 Fox affiliate's video on 'Operation Seahawk'
This weekend, the full Marine Air-Ground Task Force demonstration will be put on during the annual Seafair air show, which draws massive crowds, and this year will most likely be huge as 2013's Seafair saw the Blue Angels cancel for the first time in many years due to sequestration.
The 'MAGTF' demonstration will bring together many of the elements of the USMC's Aviation Combat Element's (ACE) capabilities, including the aforementioned AH-1s and UH-1s, along with CH-53E Sea Stallions, MV-22 Ospreys, AV-8B Harriers and possibly F/A-18 Hornets and KC-130s.
Usually, beach storming LCACs and/or AAVs and LAVs are also involved with the seagoing MAGTF demonstrations, along with infantry. Sometimes, MARSOC teams even raid barges or beaches to show off their rapid assault and extraction skills.