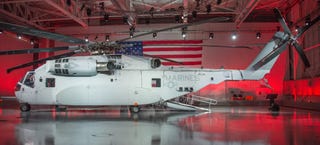 The CH-53E Super Stallion is the Marines' big and battered workhorse. These tri-motored flying barns have seen continuous service in both Iraq and Afghanistan, and were involved in almost all of America's conflicts since they entered service in 1980. The USMC need a big ass new chopper, and the CH-53K "King Stallion" hopes to be just that.
The King Stallion (crappy name!) does share in the basic CH-53 design configuration, but really it's a brand new helicopter in the same manner as the F/A-18E/F Super Hornet is to the F/A-18A/C Hornet. Although the CH-53K is not a "game changing" weapon system, it does trump the CH-53E in the following ways:
Power: Her three jet turbine motors put out 7,500HP each, about 50% more than the CH-53E's engines. This extra power will allow for the CH-53K to lift heavier loads, over longer distances and will especially improve upon the CH-53E's already capable hot and high performance.
Speed: Cruise speed will be a whopping 170 kts for the King Stallion, compared to the already fast CH-53E which cruises at 150kts. Top-end for this beast will be an eye watering 200kts.
Heavy Lifting: The goal for the King Stallion is to carry a whopping 15 tons of crap slung externally below the aircraft for over 110 miles. This is a massive increase over the CH-53. The CH-53K's maximum gross weight will be close to 85,000lbs. This is over 10,000lbs more than the CH-53E it replaces although its outward dimensions are almost identical.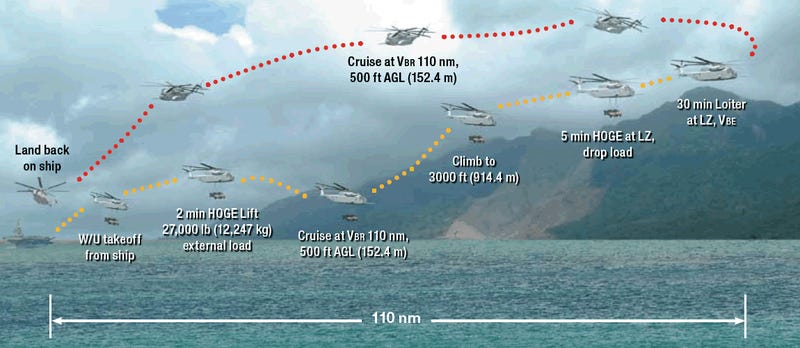 Structure: High strength composites were used for a large majority of the CH-53K's airfame construction instead of traditional steel and aluminum.
Controls: The CH-53K will have a state of the art "smart" glass cockpit, its engines will have a multi-channel Full Authority Digital Engine Control (FADEC) system, and its pilot's flight control inputs will be processed through a fully integrated fly-by-wire system.
Drivetrain: This monster packs a drivetrain that weighs in over 13,000lbs. Including its composite blades just the aircraft's drivetrain approaches the weight of an entire Russian Mi-8 Hip helicopter. The tail rotor alone has as much thrust as the main rotor on a S-76 medium weight helicopter.