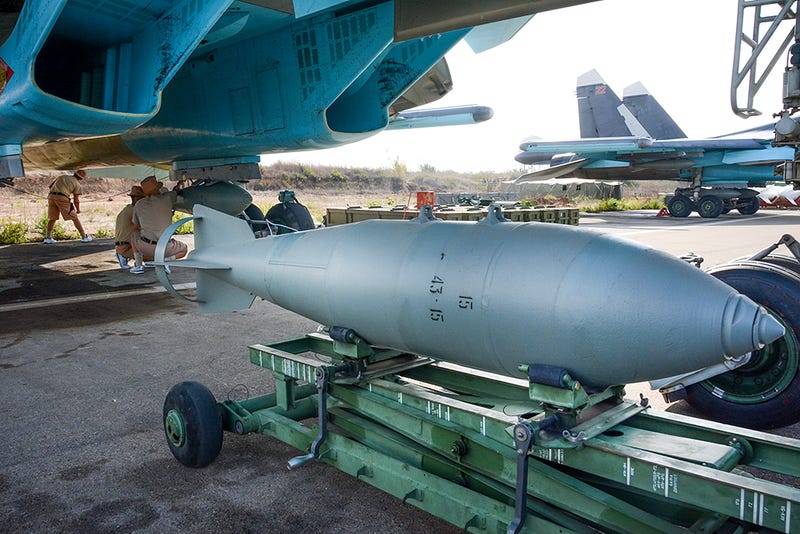 Helicopters are not known for being the most useful bombing platforms, but some of Russia's combat helicopters, namely the Mi-24 Hind series, are still capable of hauling these weapons. Russia and the Assad regime are putting this capability to use in Syria, as you can see in the videos below, with horrific results.

(Be warned that what you're about to see is the bombing of an actual city caught on video, one that may have resulted in casualties.)
There are real doubts as to what targets Russia is actually striking in Syria. Not just when it comes to what parties they are targeting, so far those largely being Syrian rebels that pose the most threat to the Assad regime, not ISIS, but also as to if the targets they are striking are valid at all.

Over the last half decade, the Assad regime has been slammed for dropping crude "barrel bombs" from holds of transport helicopters over densely populated areas, a tactic that has killed scores of innocent Syrian civilians. In effect, this is just area bombing a populace for psychological purposes.
Yet Russia seems to be doing largely the same, albeit with production munitions, from their attack helicopters, and to some degree, from their fixed-wing attack jets.

After reviewing videos of helicopter bombing runs in Syria, it appears that they are not even using accuracy-enhancing maneuvering techniques, such as dive or toss bombing, when releasing these munitions. Hind attack helicopters, which are a decently precise weapons platform, are simply dropping dumb bombs over populated areas. As you can see in the videos above, even at low altitude, this can result in bombs landing very far apart.

Even if Russian or Assad regime Hind crews have a flat bombing technique that helps calculate the bombs' point of impact, using "dumb bombs" is still a far cry from guided munitions or even unguided rockets, which the Mi-24 is much more adept at employing than dumb general purpose gravity bombs. The only thing is, guided air-to-ground munitions, whether they are laser or TV/electo-optical or even GPS guided, are expensive. While a 500 pound bomb may cost hundreds of dollars, a single precision guided munition will cost tens of thousands of dollars.