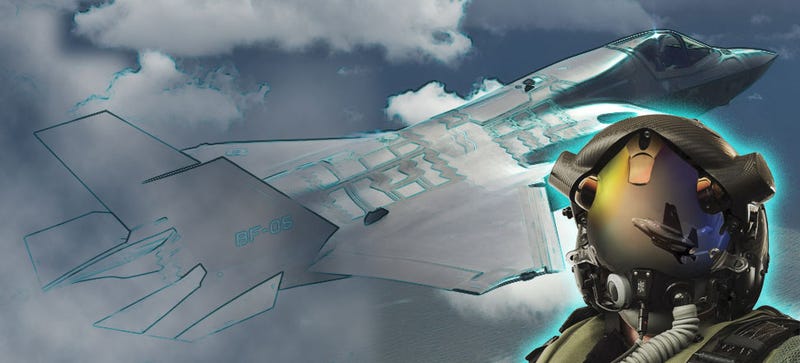 One of the most 'popular' features on the controversial F-35 is the jet's Distributed Aperture System (DAS). DAS creates an all-seeing sphere and classifies and relays data and video to the pilot's helmet and to the jet's mission computers. This game-changing system has now been adapted for the high seas, and it won't stop there.
How It Works
DAS accomplishes its unique task via a constellation of electro-optical cameras installed around the F-35, each staring in a separate direction. Then, a powerful computer processor "stitches" these video images together to create a continuous viewable video "sphere." When the DAS imagery is paired with an advanced helmet mounted display that is slaved to a spatial tracking system, the person wearing that helmet can look around and virtually "see" the environment around them relayed from the camera network, even in total darkness and, in some cases in otherwise blinding environmental conditions.
Because the DAS cameras are mounted around the outside of the vehicle, and the user is seated inside the vehicle while wearing a helmet mounted display with DAS's imagery being projected inside of it, the user can virtually "see through" the vehicle's structure as if it were never there in the first place. So if a F-35 pilot was flying at night, and his wingman disappeared below him, he could look down and see his wingman right through the floor of his jet.
Distributed Aperture technology does not only provide synthetic vision. When paired with high-speed computers loaded with the latest in image recognition and object tracking software, the system can provide missile launch detection and tracking, ground target tracking and recognition, infra-red search and track functions, and even ballistic missile tracking capabilities. When tied to high-end software and advanced computing hardware, the DAS system is very smart and very sensitive, and will only become more so as time goes on.
In the realm of air combat, a pilot flying an aircraft with DAS installed should almost always know where the enemy and friendlies are during a dogfight. The system really works as a smart optical search and tracker at longer ranges, notifying the pilot of interesting things it sees, both in the air and on the ground, and as a virtual "back-seater" born with x-ray vision during close-range combat.
In an age where cockpit workload increases even as automation takes over more tasks, DAS provides more than an extra pair of eyes always looking outside the cockpit. With the help of on-board automation, DAS can perform key tasks for the pilot while greatly enhancing his or her overall situational awareness. A much more capable, but less affable, "Goose" if you will.
As a mature F-35 and an enemy fighter merge during a theoretical dogfight, DAS will keep that enemy aircraft locked up without pointing the nose of the aircraft anywhere near them, and the pilot can fire a network-enabled AIM-9X Block II advanced Sidewinder at it. DAS would transmit the enemy aircraft's telemetry to the highly maneuverable missile in-flight, which has a high probability of destroying the enemy aircraft as it bleeds energy in a hard turn. Meanwhile, the F-35 has accelerated out of the fight or pressed the fight further, taking advantage of the fact that the enemy aircraft is now on the defensive (if not destroyed), and at a low energy state.
DAS is also totally integrated into the F-35's overall sensor suite, so that if the jet's super-capable APG-81 AESA radar, or digital radar homing receiver or electronic surveillance suite detects something of interest, the F-35's software can cue the DAS to closely analyze that location visually. If it ends up detecting something in that spot, the pilot would be notified, thus DAS would add to the pilot's situational awareness and help in expediting their decision cycle, as well as potentially providing enhanced targeting data as a byproduct.
DAS and the F-35′s Electro-Optical Targeting System (EOTS), basically an internal SNIPER XR targeting pod mounted under faceted windows below the F-35′s nose, also can work closely together. When it comes to long-range targets, the aircraft's radar may detect a possible contact, and the powerful telescopic vision of the EOTS will attempt lock onto it and relay its imagery to the pilot's displays. This will allow visual target identification from well beyond visual range.
As the target comes within the viewing range of DAS, the F-35's software should seamlessly "hand the contact off" if commanded to do so, thus freeing up the more powerful, but narrower field of view, EOTS for other tasks. In this manner, the system also offers some redundancy against electronic countermeasures and jamming, as optical systems are not susceptible to these types of tactics while tracking a potentially hostile aircraft.
The integrated nature of the F-35′s sensor suite, including its radar, EOTS, DAS, data-link, sensitive radar warning receiver and electronic surveillance measures, allows for the F-35 to go "electromagnetically silent" once a target is detected at long to medium ranges. It can then track that target using passive sensors (everything but radar). This allows for the F-35 to maneuver tactically without being detected by continuously "spiking" the enemy aircraft with its radar system. Even the F-35's missiles should be able to be guided using the aircraft's electo-optical systems alone, as well as from off-board sensors such as the data-link feed coming from an orbiting E-3 AWACS, other fighter aircraft such as F-15Cs operating well behind the F-35, ground radar stations and other sources.
How The Navy Is Going To Use It
DAS technology is pretty cool stuff that has massive implications not just for the future of air combat, but for the entire defense industry, and transportation as a whole. With all the incredible air combat capabilities DAS provides in mind, the creative folks over at Northrop Grumman have adapted the system for service at sea, and ominously named this new capability "Silent Watch."
Tactically, Silent Watch could break the narrow field of view limitations that currently exist on naval FLIR and other optical targeting systems, and provide a single-source, persistent, 360' electro-optical coverage. This could be used for situational awareness and surveillance or for targeting of the ships weapons systems.
Additionally, a single Silent Watch system, and its resulting video-data feed, could be used by different departments with different missions on a single vessel at a single time. For instance, a CIWS gunner could use Silent Watch for enhanced situatonal awareness and targeting, the combat information center on the ship could be using it to alert them of incoming missiles or fast boats, while another sailor uses the system to help direct air traffic coming and going from the ship's landing pad, while yet another sailor uses the system for navigating in a highly trafficked waterway.