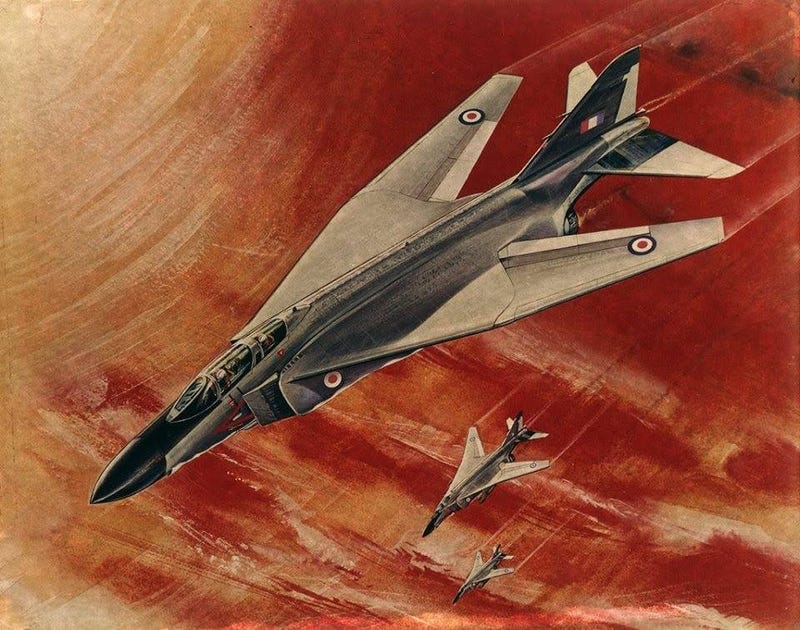 McDonnell Aircraft Corporation's F-4 Phantom was quickly becoming the do-all fighter by the mid 1960s, able to lug thousands of pounds of bombs on one mission and then strictly air-to-air missiles the next. The potential for evolving the already successful Phantom became especially attractive as high-end combat aircraft programs of the '60s began to sputter, namely the Navy's F-111B. Enter the F-4(FV)S variable-geometry wing Phantom concept.
The F-4(FV)S concept took the F-4 fuselage and omitted its low, bent-wing configuration. In its place was a redesigned highly-mounted swing-wing mated to large wing-root extensions. Within these extensions were the pivot points for the swing-wings. The result was a design that looked more like what would become the Soviet MiG-23 Flogger than anything else (see conceptual cutaway of the F-4(FV)S here).
Like the General Dynamics F-111 in development at the time, the F-4(FV)S' variable geometry wing, able to sweep between 23 and 75.5 degrees, would have given the F-4 blistering high-speed performance, while also allowing for improved low-speed handling.