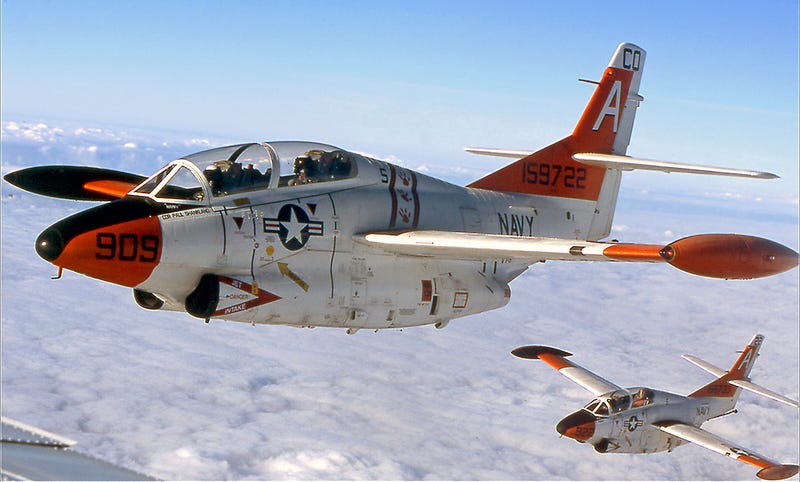 It has served the Navy for 56 years, the vast majority of those years working as the service's intermediate jet trainer. Thousands of Naval Aviators and Naval Flight Officers were introduced to jet operations in the T-2 over the years, with many pilots making their first carrier landings in the jet. Now, with just a few remaining in service at Naval Station Patuxent River, the T-2 Buckeye is finally leaving the inventory once and for all.
The T-2 Buckeye has never been considered a beautiul airplane. North American didn't design it to be the sleekest thing in the sky. Instead they made it simple, reliable, and extremely tough so that it could take merciless beatings as students figured out their way around an aircraft carrier in a jet. It's name was fairly straight forward, as all the T-2 Buckeyes, some 529 in total, were constructed at Air Force Plant 85 near Columbus, Ohio.

The jet came in three primary configurations over the years, with the T-2A having just one Westinghouse J34 engine. The B model introduced the two engine design, but it would not be until the C model, with its non-afterburning J85 engines (similar to those used in the Air Force's T-38 Talon), was introduced in the late 1960s that the ultimate T-2 configuration would be established.

Not only did North American design the Buckeye to be tough, but they also designed it to be extremely stable and forgiving. This garnered the straight-winged T-2 a special place when it came to advanced spin training. Even today, the Air Force's Test Pilot School at Edwards Air Force Base contracts one of the few Buckeyes in private hands for this use from time-to-time.

The T-2's cockpit was designed to closely mirror that of the T-28 Trojan, also a North American product, which was the Navy's primary trainer up until the mid 1980s. The aircraft are actually quite similar in their design philosophy, which is not a surprise considering their pedigree and mission.

For the last 2o years of its career, the T-2 served alongside the T-34C Turbo Mentor and the TA-4J Skyhawk, and later the T-45 Goshawk, when it came to training Naval Aviators and Naval Flight Officers that found themselves in the strike fighter training pipeline.

By the 2000s the Navy was well on its way to paring down the types of aircraft in their trainer fleet and replacing old aircraft with newer ones that would better represent what they would fly in the fleet. The T-6 Texan II JPATS and the T-45 Goshawk alone would train future Navy jet crews. By 2008 this vision was finally fulfilled, with the last T-2C Buckeye training flight occurring that year.