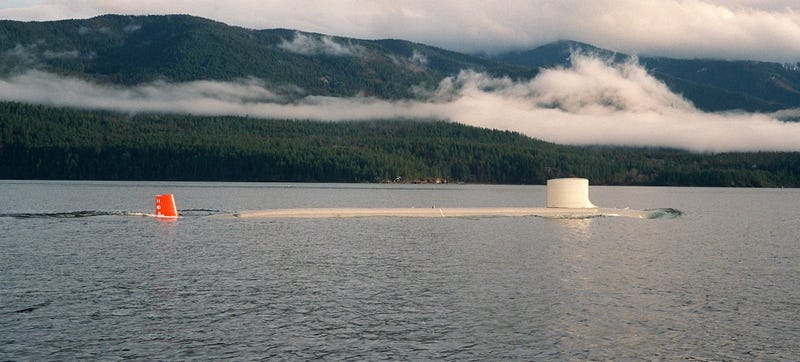 The US Navy's submarine bases are some of the most high-security installations in the world, but one of their most important and shadowy submarine outposts is not located along the ocean, but rather in a lake in landlocked Idaho.
The Navy's Acoustic Research Detachment (ARD) at Bayview, Idaho, which is some 375 miles from the ocean, is where new submarine and surface ship shapes and subsystems are tested in a sub-scale environment that closely mimics the ocean. In other words, ARD Bayview is the Navy's lower-key subsurface Area 51, and massive Lake Pend Oreille is a water based, smaller, and more outsider friendly Nellis Range Complex.
The lake's depth (it's deeper than Loch Ness at about 1150 feet), large size, clear water and quiet conditions provided by steep tree-lined shores and a flat muddy bottom, along with a constant chilly temperature under 100 feet, are all key factors that have made it such an attractive testing location for the US Navy since WWII. Also, the lake stays remarkably calm for its size, allowing for fantastic testing conditions.
The truth of the matter is that this small base has supported every major submarine design development of the last 65 years, from exotic hull shaping and acoustic dampening treatments, to high-end passive and active sonar systems. Much of this testing is done using a large network of extremely sensitive hydrophones placed in key locations on, or tethered to, the bottom of the lake. Since these listening devices can even hear rain on the lake's surface, and in some cases to stay out of sight, the most sensitive testing is done late at night.
Ranges:
The main testing area is called the Intermediate Scale Measuring System (ISMS) which is a 1,000 foot diameter circle of hydrophones mounted on the bottom of the lake or suspended via buoys. This array is paired with an amplified sound projector array and an elaborate control barge on the surface above. Within this massive circle, sub-scale test articles are put through their paces and all of the information collected is piped via a fiber-optic network to a ground control and interpreting station over a dozen miles away back at Bayview. Even particular pieces of machinery that are going to be installed on submarines can be tested inside one of the Navy's miniaturized test subs so that its overall acoustic impact can be gauged.
In many ways the ISMS is watery version of the US Navy's Missile Engagement Test Arena and Radar Cross-Section measurement facilities, as it is a controlled environment created to evaluate a vehicle's signature and sensors in a three dimensional manner.