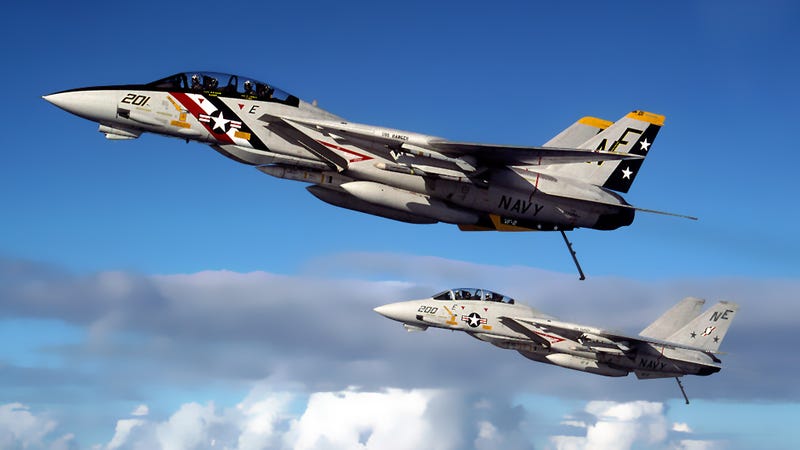 We're blasting along through the bumpy mid-day air at a brisk 480 knots, 500 feet above the desert. The ride is rough, and the purposeful rumble of our engines reminds me that it takes a lot of power to push this machine through the dense air at 800 feet per second. Fortunately, we have a lot of power. To my left at about a half mile is another Tomcat, and a mile ahead are two more. We fly in an offset box formation, each of us carrying two Mk 84 2,000-pound bombs. I'm the radar intercept officer (RIO) in an F-14A Tomcat.

"Checkmates, tac left, reference 287."
At the waypoint we crisply roll into almost 90 degrees of bank. My pilot pulls to 5G and in a few seconds we roll out on the new heading. We are on our way to our ground targets.
Below us, cars and trucks cruise Interstate 10 at 1/8 our speed. I can just imagine the sound of four Tomcats in MIL power (full power without afterburner) and I wonder if anyone is looking up to see their tax dollars at work. They probably couldn't see the bombs, but with our wings swept back they could tell we're moving out. It's a short segment of our flight and in just over a minute we turn south. Sorry, folks, airshow's over.
[Editor's Note: He gave us an incredible look inside life as a Topgun instructor during the filming of the famous cult classic by the same name, now our good friend and author of the fabulous Topgun Days, Dave "Bio" Baranek is working on his second and third books, and has come back to Foxtrot Alpha to recollect on the intricacies of the mighty F-14 Tomcat's evolution and his own career that evolved right alongside it.]