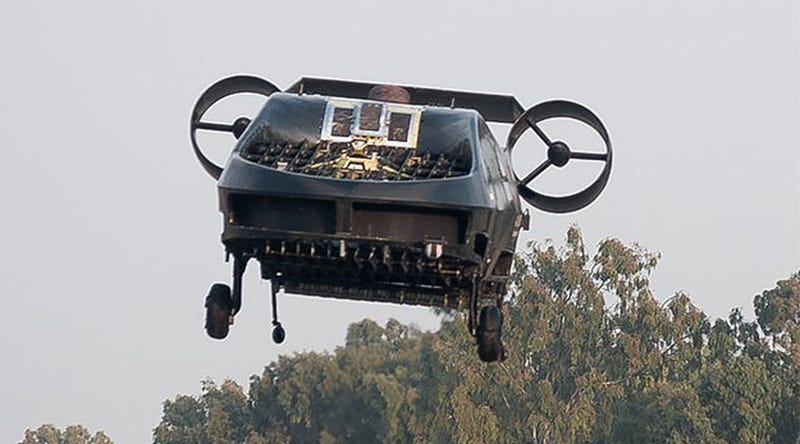 Israel's Urban Aeronautics has been working on a concept for a truck-sized flying machine that can go places where even helicopters can't for over decade. It has always seemed like an intriguing and promising idea, but now, after years of development, it is becoming a reality. Just days ago the futuristic machine, dubbed the AirMule, made its first untethered flight.
A Flying Truck With A Tiny Footprint
The concept that led to AirMule was originally called the X-HAWK LE, but the idea really gained steam after lessons learned during the 2006 Lebanon War. That made apparent the need for a craft that could extract wounded soldiers in enemy territory, but didn't need a clear and open landing zone like a helicopter. Since then the concept has been tested successfully in various subs-cale forms, and now in a full-scale one.
The AirMule is a pure vertical takeoff and landing (VTOL) design, and uses ducted fan-like lift rotors tied to a central turbine powerplant for propulsion. Right now that powerplant is a 730 horsepower Turbomecca Arriel 1D1 turbine, but the production aircraft is envisioned to feature a 985 HP engine.
The aircraft weighs close around 1,700 pounds empty and has a max gross weight of 3,100 pounds, giving it a respectable payload. It is designed to fly at 100 knots and up to 18,000 feet, so it is not just a clumsy VTOL novelty machine. The production version will supposedly be able to carry nearly 1,000 pounds over 185 miles.
Additionally, the AirMule is envisioned as primarily an unmanned aircraft but manned models are possible. As such, it can be put to work in places where nobody would dare to go. Unmanned helicopters and other vertical lift aircraft are quickly becoming one of the most promising subsets of the high-end unmanned aircraft marketplace. The AirMule could find a unique place within this emerging capability set.