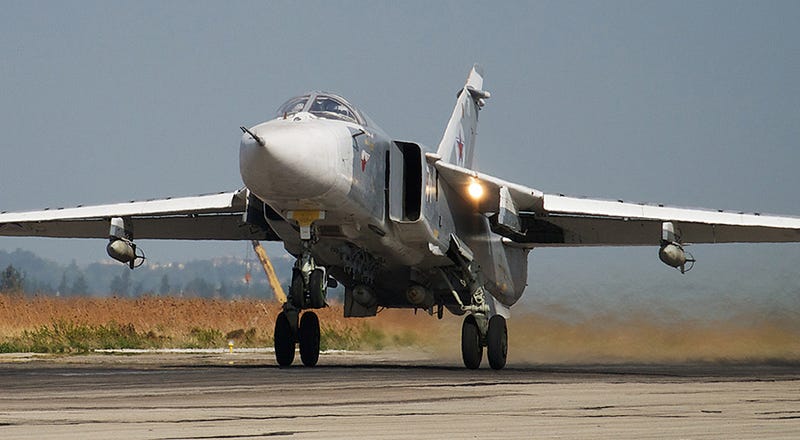 A Russian Su-24 Fencer attack jet, one of about a dozen based at Russia's forward operating base in Syria south of the port city of Latakia, was shot down after Turkey claims the aircraft had passed into its airspace and did not respond to 10 separate warnings spaced over five minutes.
Multiple points of view recorded the shoot-down of the Su-24, with the aircraft streaming flames and plunging towards the ground from medium altitude (around 20,000 feet).

Russia has insisted that the Su-24 did not violate Turkish airspace before being engaged and shot down by Turkish F-16s, although Russian news outlets claim the jet was shot down by a ground-based air defense system.

The Russian Ministry of Defense has also claimed that the pilots were able to eject although their fate remains unknown. The aircraft was operating along the border in Latakia Province in Northwest Syria.

There have been multiple previous Russian incursions into Turkish airspace since Russia's air campaign over Syria has begun and Turkey shot down a Russian unmanned aircraft in October. Additionally, Turkey shot down a Syrian MiG-23 in early 2014.