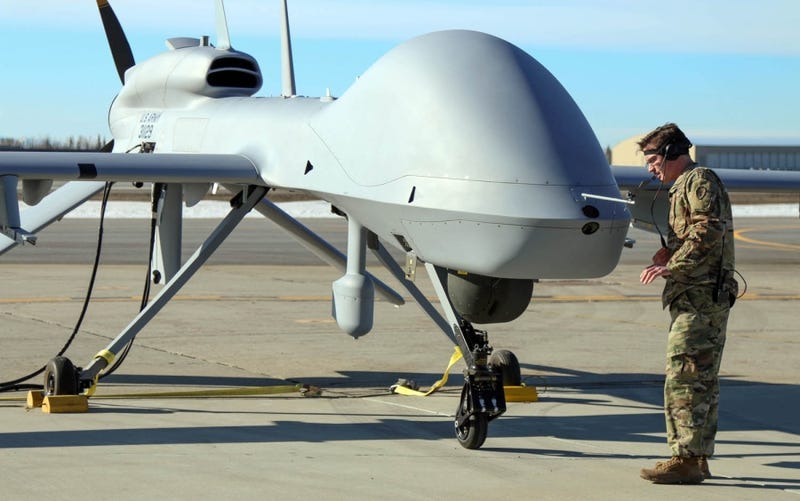 One week after North Korea launched four ballistic missiles into the Sea of Japan, the United States has announced it is permanently deploying attack drones to South Korea for the first time.
The deployment is likely a show of force reaction to Pyongyang's missile launch tests over the past few months, Daniel Pinkston, a professor at Troy University in Seoul, told CNN:

"If North Korea thought they could continue their accelerated pace of weapons testing and deployment without a response, they certainly were wrong," Pinkston told CNN. "(With) the recent North Korean behavior, and with the Foal Eagle exercise going on, I think it's a good time (to deploy)."
The MQ-1C Gray Eagle Unmanned Aircraft System will be assigned to the Second Combat Aviation Brigade of the Second Infantry Division at Kunsan Air Base in the Republic of Korea to support "intelligence, surveillance and reconnaissance capability to U.S. Forces Korea and our ROK [Republic of Korea] partners," according to a press release by the United States Forces Korea.
The MQ-1C Gray Eagle can stay in the air for 27 plus hours, and travel up to 25,000 feet at a speed of 150 knots, according to a description of the drone on the U.S. Army's website. It can also carry four AGM-114 Hellfire missiles.
This deployment is a follow up on the recent decision to send Seoul the THAAD (or Terminal High Altitude Area Defense) system to protect the country from a possible ballistic missile strike from Pyongyang. However, the THAAD system is getting mixed reviews in South Korea. While many realize that North Korea is an unpredictable player, many locals favor a diplomatic solution to the crisis.