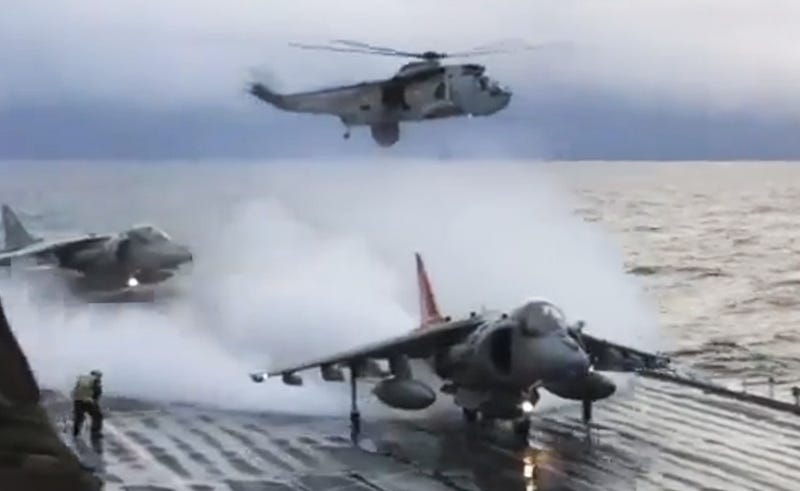 It has been more than five years since the United Kingdom's Ministry of Defense shuttered its Harrier fleet, eventually selling it to the U.S. for a song. Here's a throwback video from Nov. 24, 2010 of the Harriers executing their final launch from the very rain-soaked deck of the HMS Ark Royal.
Oh and wait for the end, there is a little high-speed surprise you won't want to miss.
Cutting the UK's Harrier force, which had decades of life left in it and had recently seen key upgrades, was a short-sighted move. The Pentagon got the 74 Harriers for a paltry $177 million dollars. This is less than $2.5 million dollars per jet, or about the price of one F-35B, give or take a few tens of millions of dollars depending on how you calculate it. Today these airframes are being used as attrition reserves and spare parts hulks for the Marines' AV-8B fleet. You can see them here, although there are some at MCAS Cherry Point as well (you may want to get your tissue ready, it is a sad sight).
Now the UK is heading back in the fixed-wing capable carrier business in a big way with their two Queen Elizabeth class aircraft carriers. The only problem is that these carriers, which are much larger than their predecessors, need aircraft.
Since the decision was made not to go with a catapult and barrier setup, where they could fly anything from a Super Hornet to a Rafale off the ships' decks, they are stuck with only one aircraft choice, the hugely expensive but potentially very capable F-35B.