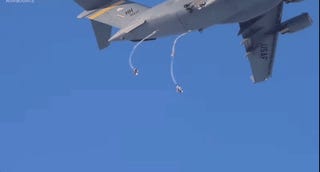 U.S. Army paratroopers parachuted down to Deadhorse, Alaska on February 22nd during a training exercise dubbed Spartan Pegasus 2017 simulated to recover a downed satellite. The video captured of the jump is pretty incredible.
As Popular Mechanics reports, in minus-35 degree weather, 128 paratroopers from the Alaska-based 1st Squadron, 40th Cavalry Regiment and 1st Squadron, 25th Cavalry descended from U.S. Air Force C-17 Globemaster III transport planes.
And if you're wondering whether paratroopers would have to actually one day recover a satellite, take a look back to 1978 when a Soviet satellite named the Kosmos 954 fell in the Canadian part of the Arctic. A Joint Canadian-American team had to recover the radioactive parts. (The satellite fall turned into a major international legal issue because of the millions of dollars the operation cost; Canada ended up filing a claim against the USSR to recover damages. Read all about it here.)
The United States and the Russian Federation have long fought for supremacy in the Arctic Circle, with much of the news cycle favoring Moscow as the leader of the region so far. I have written extensively about Russia's efforts to gain an advantage in the region for geographic and economic purposes. The Russians are militarizing the region and creating sub-zero super highways with its 40-plus ice breakers. In comparison, the U.S. only has one and there is no telling when new ones will actually be laid down for construction. As far as on-the-ground tactical warfare, the Russian military is even training with reindeer and dogsleds, as Foxtrot Alpha reported last year.