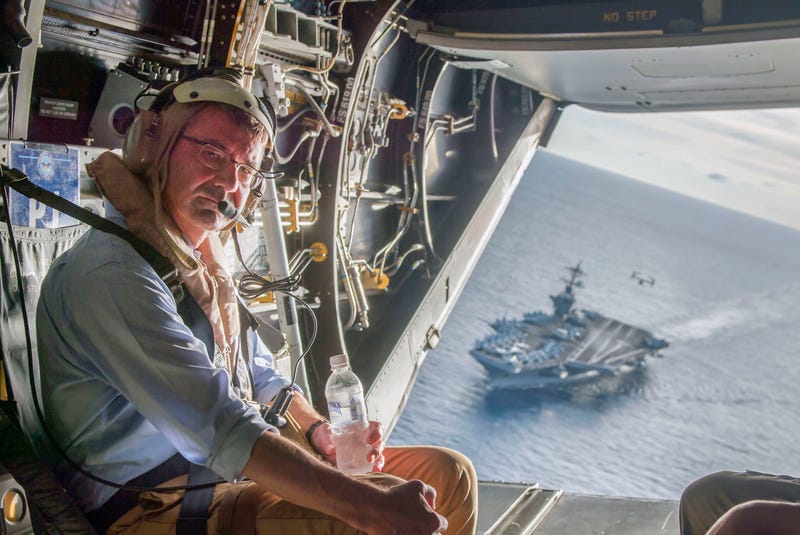 U.S. Secretary of Defense Ashton Carter seems to get the reality that the so-called "coalition" of 66 countries that are supposedly fighting ISIS in Iraq and Syria is a sham. Most of these countries are contributing nothing to the fight and many that once did have ceased doing so. This week, he will attempt to do something about it, which could also signal a much needed-shift in America's ISIS strategy.
Carter has jetted off to Brussels, with the Pentagon's updated war plan in his briefcase, in a huge attempt to get serious buy-in for a revitalized anti-ISIS strategy from key players. These include defense secretaries of NATO members, Iraq, and the Sunni-led Persian Gulf states.
The Air Force Times reports Carter even alluded to the dreaded "boots on the ground" when referencing his plan:
"What I'm going to do is sit down and say, here is the campaign plan ... If you're thinking World War II newsreel pictures, you think of an arrow going north to take Mosul and another arrow coming south to take Raqqa," he said last week. And then he will run through a list of military capabilities — "boots on the ground, airplanes in the air," plus trainers and other support personnel — that will be needed to achieve victory.

"And I'm going to say, 'OK, guys. Let's match up what is needed to win with what you have, and kind of give everybody the opportunity to make an assignment for themselves,'" he said. "The United States will lead this and we're determined, but other people have to do their part because civilization has to fight for itself."
The mention of "boots on the ground" and a clearer set of objectives is something the White House had previously avoided seemingly at all costs. Still, it remains unclear how the U.S. will lead such an effort without committing more ground forces to the fight, and that may be what Carter is about to argue in favor of.
A Strategy That Failed Before It Even Began
President Obama's strategy in Iraq and Syria has been seemingly more about running out the clock on his last term than about actually defeating ISIS. Dozens of daily air strikes executed under very tight rules of engagement have been at best a form of chemotherapy that has kept the ISIS cancer from growing locally, but now the Islamic State's ideology is metastasizing in other parts of the planet like Libya, Afghanistan, Pakistan, the Sinai Peninsula and central Africa. In fact, even as Obama has claimed that ISIS is contained, his own generals have stated the exact opposite.
The strategy itself, one based primarily on medium-altitude air strikes, had nearly no chance of success from the outset. It was one based on a deep misunderstanding of the application of air power and its limitations. It was also extremely late to develop and excruciatingly slow to roll-out compared to past air campaigns that saw hundreds of targets being hit in its opening days, instead of just a handful. This gave ISIS the time to adapt to precision air power, and today, after tens of thousands of bombs dropped, there are as many ISIS militants on the battlefield as there were when the first bomb was dropped.
Now, ISIS does pose a threat to the U.S. and our allies. They are the wealthiest terror organization the world has ever known and they have high ambitions when it comes to attacking targets outside the borders of their so-called caliphate.
Officials at the highest level of the U.S. intelligence services have come out and said they are expecting an attack on American soil from ISIS this year. We have already seen them at work in Europe, Africa and the at least inspiring attacks in the U.S. It is likely that we have also seen them bring down an airliner, Metrojet Flight 9268, over the Sinai Peninsula. The group has most likely already used chemical weapons and could be developing more potent forms of WMDs.
But what is most concerning is their massive appeal and effective recruitment capabilities using social media and the Internet. This strong digital outreach capability has allowed the Islamic State to recruit across a broad spectrum, including individuals intelligence officials say hold western passports.
The fact that ISIS has lost relatively little territory in Iraq but gained territory in parts of Syria and abroad, even while being supposedly pummeled by the most advanced air power available, has been the group's most effective recruiting tool. Just holding on while the might of the U.S. and its allies tries to unseat you from the air is considered a massive win among jihadists. The only way to truly degrade the popularity of ISIS is to take territory from it in an aggressive and persistent manner, nullifying their divine claim as a modern day caliphate that spans from the Mediterranean to nearly the Persian Gulf.