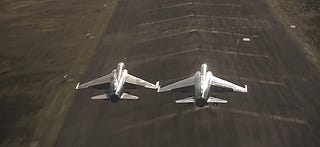 With the venerable Mirage F1 light fighter finally being retired from French service, the last F1CRs being taken off operational duties on June 13th of this year, the Armée de l'Air appears to have commissioned a remarkable piece of footage as an homage to the nimble and durable fighter. Dassault fighter super-fans around the world rejoice!
The Mirage F1 series was the successor to the Mirage III/V family, and the jet proved to be a reliable multi-role workhouse not just for the Armée de l'Air, but for a dozen and a half nations scattered around the globe. Over the jet's four decades of service, it deployed to almost every conflict France was involved in, including Desert Storm, Afghanistan and Operation Serval over Mali in 2013.
France's Mirage F1s were no strangers to Africa, as they had a regular presence in Chad. It was on these deployments, and a few others to the middle east, that some of the most notorious low-level flying videos of all time were recorded:
As we finally say au revoir to the France's last Mirage F1s, which were the 'CR' tactical reconnaissance variant, the Rafale now taking over the role with its advanced 'Reco NG AEROS' reconnaissance pod, the jet still serves four other users and is well suited for homeland defense, light attack duties and operating from austere airfields. Although, the F1's limited range is a hindrance for air arms that fight expeditionary battles or have to patrol large swathes of airspace.
Currently, Morocco is flying the most advanced Mirage F1s ever deployed, with around 30 of the jets getting upgraded by French defense consortium ASTRAC to 'MF2000' standard. This configuration brought the Mirage F1 into the 21st century, with color displays, helmet mounted sight, HOTAS, a capable electronic warfare system, the Democles advanced targeting pod, RDY3 multi-mode doppler radar, Magic II and MICA air-to-air missiles, a new mission computer and navigational suite, as well as an array of precision guided munitions.
Sadly, there will be a day when the F1, with its clean lines and beefy landing gear, will no longer graces the skies, but until then we can continue to marvel at the pointy jet that looks like it is going supersonic even while it is taxing on the ground.
Tyler Rogoway is a defense journalist and photographer who maintains the website Foxtrot Alpha for Jalopnik.com You can reach Tyler with story ideas or direct comments regarding this or any other defense topic via the email address Tyler@Jalopnik.com