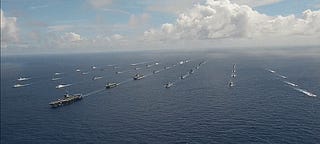 Exercise Rim Of The Pacific, commonly known as RIMPAC, is the largest multinational naval training event in the world. Based out of Honolulu, Hawaii, RIMPAC brings together a multitude of Navies with far ranging capabilities to train together cooperatively under intricate battle scenarios similar to the ones they may face in the real world.
RIMPAC 2014, held June 28th through August 1st, saw Australia, Brunei, Canada, Chile, China, Colombia, France, India, Indonesia, Japan, Malaysia, Mexico, Netherlands, New Zealand, Norway, Peru, the Philippines, Singapore, South Korea, Tonga, the United Kingdom, and the United States come together for the massive exercise. A total of 49 ships and 6 submarines, 25,000 service people, and over 200 aircraft took part in the massive war game. Another six countries were also present to observe the exercise so that they could bring the lessons learned from it back to their respective commands.
RIMPAC is executed on the sea, in the air and on the ground, with a wide range of warfare presented, although there is a certainly a focus on maritime and amphibious operations. These training scenarios included everything from anti-submarine warfare to disaster relief operations, and were designed to challenge participants while also pushing the many different nations involved to learn how to maximize their interoperability and to better understand each others unique capabilities.
RIMPAC 2014 would see China participate in the mega-exercise for the first time ever. Invited in 2012 by then Defense Secretary Leon Panetta, China sent four ships, including a bunker/resupply ship, a guided missile frigate, a destroyer and a state-of-the-art hospital ship to actively train along many of its regional peer-stare competitors, including Japan.
Japan traditionally has a large presence at RIMPAC and is also currently mired in a nasty territorial dispute with China over the strategically significant Senkaku Islands. There were concerns about China's invite to RIMPAC shortly after it was known that the invitation was delivered, and further controversy has arisen after it was discovered that China sent a spy ship to shadow the same exercise that it was also a part of, leading to calls for the Chinese Navy to be excluded from the next RIMPAC in 2016.