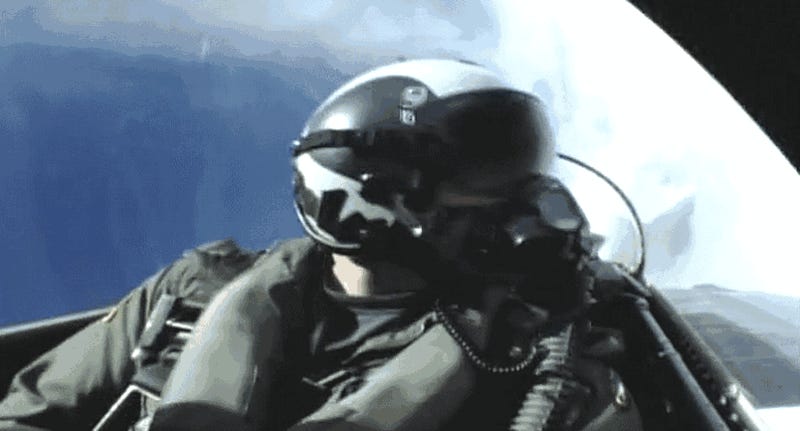 We were upside down in an F-14D Tomcat, climbing through 10,000 feet on the second half of our dirty double Immelman when the Ft. Lauderdale airshow boss called out traffic on our east side. I looked over and saw a Southwest Airlines 737 jet passing the opposite direction and probably a mile away. I checked our navigation page to confirm we were still in the airshow box.

Being the Radar Intercept Officer (or RIO), I told my pilot, Rocco, that I had sight of the jet. It was a non-factor, and we were well within the performance box boundary. Regardless, it is a surreal feeling to be hanging upside down in the ejection seat straps and see that familiar orange and blue plane level with you going the opposite way. We finished up the show by diving back down into the sneak pass, but I always wondered if any of those passengers saw us and if so, did they want to trade places?
If you're reading this article now, maybe you would want to trade places too.

(Editor's note: LCDR Joe "Smokin" Ruzicka is here to tell us all about the legendary Tomcat demonstration, which he flew the last of on September 18th, 2005, 10 years ago today. - TR)
It's hard to believe that it has already been 10 years since Rocco and I flew the final Tomcat Demo at Naval Air Station Oceana Virginia. The big fighter had a huge following at airshows and was always one of, if not the most popular single plane demos on the circuit. Because of its sheer size and speed, it easily became a crowd favorite. The variable geometry wings, when swept back, made it look even faster. Heck, the plane even had a movie made about it, but the airshow was where you got to see it in real life.